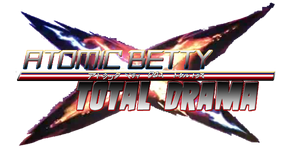 Atomic Betty X Total Drama (アトミックベティ クロス トータル ドラマ, Atomikku Betti Kurosu Totaru Dorama, Atomic Betty Cross Total Drama) [Dubbed Atomic Betty is a Japanese-Canadian Crossover Series commemorating Teletoon's 15th Anniversary and is the first collaboration series from Fresh TV and Atomic Cartoons and distributed by Bandai Entertainment, Bandai Visual, Warner Bros. Pictures and Breakthrough Entertainment. It has been developed by Namco Pictures and Bandai Visual. The show consists of 2 versions, The Edited Version on Cartoon Network is rated TV-PG, The Uncut Edition is Rated TV-14 for Blu-ray/DVD Releases and on the Adult Swim/Toonami Version for Sexual Content, Stylized Violence, Strong Language and Mild Mature Humor. As of 2012, After Bandai Entertainment is going out of business, Aniplex of America with association with Warner Bros., Teletoon and Namco Bandai Holdings Inc. aqcuired Ultimate Atomic Betty X Total Drama while in 2013 FUNimation Entertainment joined Teletoon again for a re-aqcuiring re-release of the original on DVD/Bluray and Digital Media, making it the second of the Teletoon-aired series to be licensed by FUNimation (the first one being the Spider Riders anime adaptation).
About the Show
Edit
The series is a prequel to both Atomic Betty Redux and Total Drama: Revenge of the Island and a non-canonical sequel to both Atomic Betty and Total Drama: World Tour.
After the Events of Atomic Betty: Mission Earth and Total Drama World Tour, Betty lives in secret fear after the break-up of Duncan and Courtney after the episode "Greece's Pieces" due to Chris McLean blackmailing Duncan to not to love Courtney due to her behavior, After the end of Season 3 and productions of Season 4 named "Revenge of the Island", Chaz, Noah, Betty, Sparky, Regeena and X-5 reacted to the ending and Betty has a way with Drama and sorrow after the season Ended and the new season gets a new cast since the first are assumed dead but not really dead and due to the fans on the Internet fighting over 2 Pairings due to Gwen and Courtney's behavior in the series for 3 seasons and thinking about the future of Courtney, Duncan, Trent and Gwen. Betty decides to end the fan war by going to Ontario on an convention with his friends for the panel of Total Drama with Chris and the first generation's cast, but some fans end up in a Fan war for Duncney or DunGwen. So Betty runs with rage and honor to end the fan war and tell the truth behind the break-ups and the destruction of romance in the reality show. But ended up in Confessions and Feelings for Duncan by Courtney and for Trent by Gwen and ended up with so much confessions, which Betty had a victory of ending the fan war as she planned and with her friends she is going to hang out with the cast (except Heather, Alejandro, Chef and Chris) on an Abandoned Studio Lot on Ontario. Which The Galactic Guardian Headquarters moves into the place when it took place in Total Drama Action. But it led up when the galaxy broadcasted about Atomic Betty ended the Total Drama Fan War, Maximus will go back to Earth, This time to Destroy Betty and the whole world (Eventually)
Characters
Edit
Atomic Betty
Edit
Total Drama
Edit
The episodes are originally 13 episodes, but due to some other things to add in the series, a new season with extra 13 episodes and 1 full hour episode has been added known as Atomic Betty X Total Drama V2, which its total of 27 episodes. The episodes are set to broadcast the show on Cartoon Network with 2 versions, Which the edit one is airing on Cartoon Network, and the uncut is aired in the same network, but in the Toonami block on Adult Swim as of Summer 2012. Ultimate Atomic Betty X Total Drama will air 5 episodes on Cartoon Network (Adult Swim/Toonami) and NaruIchi97 Anitoku and AtomicRanger97 Network and followed by a sequel named Rising Complex airing May 18, 2013 on AtomicRanger97 Network's Toonami, replacing Kappa Mikey: Extreme Seasons.
Video Games
Edit
Graphic Novel
Edit
Distributions and Broadcast
Edit